I'm John Regan, a CFO & Controller with an extensive track record helping early stage and middle market companies succeed.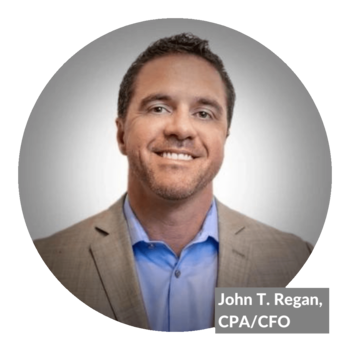 Proficient with early-stage and middle-market companies. Proven in high-growth, cross-functional environments. A financial partner with over two decades of success in accounting, finance and process development.
University of N. Florida – Masters of Accounting University of C. Florida – Bachelor of Business Administration
When I am not helping my clients, I like to spend my time traveling or building my investment portfolio. When investing I primarily focus on deep value and early stage companies. Feel free to contact me with your relevant investing ideas.
Certified Public Accountant – TX, FL
Six Sigma Black Belt – MSI
Certified Pro Advisor – Intuit
Certified Solutions Expert – Microsoft

Financial Analysis & Reporting – (GAAP / IFRS / SEC)
Flash Reports & Balanced Scorecards
Board Level Presentations
Experienced with public and private companies
Pitch Decks and Fundraising
Working Capital Management
P&L Responsibility
Annual Budgets
Monthly & Quarterly Forecasts
Long Term Strategic Planning
ERP system Implementations (Sage, Oracle, NetSuite, MS Dynamics, QuickBooks)
Streamlining Accounting Processes
Hardening Internal Controls (SOX Compliance)
CPA (active license)
Master's Degree in Accounting
Cross-Functional Leadership
Product Design and Value Engineering
 Supply Chain Performance Assessments
 Regulatory Compliance Assessments (FDA, ISO)
Lean Manufacturing Initiatives (Six Sigma, 5S, Kaizen)
Factory Design and Operation
 Equipment Sourcing and Selection
 Design and implement computer network architecture
 Builds computer network architecture using the latest encryption standards.